Google Ads, Google Ads Services in Mumbai, Google Ads Services in India, Google Ads Services in Vashi, Google Ads Services in Panvel, Google Ads Services in Bandra, Google Ads Services in Andheri, Google Ads Services in Australia, Google Ads Services in Mexico, Google Ads Services in Chennai
Google Ads Services in USA, Google Ads Services in United Arab Emirates, Google Ads Services in Zimbabwe, Google Ads, Google Ads Company in Mumbai, Google Ads Company in India, Google Ads Company in Vashi, Google Ads Company in Panvel, Google Ads Company in Bandra
Google Ads Company in Andheri, Google Ads Company in Delhi, Google Ads Company in Hyderabad, Google Ads Company in Pune, Google Ads Company in USA, Google Ads Company in United Arab Emirates, Google Ads Company in United Kingdom
Creating A Google Ads For A High Page Ranking.
With the rise of the internet, the competition has become fierce. Every business is fighting for a top spot in the Google search rankings. In such circumstances, standing out from the crowd can be difficult. This is where we come in.
Pinacle Web India is a digital marketing agency providing one of the best Google Ads services in Mumbai, India. We are here to grow your online presence, drive your sales and skyrocket conversions.
Google Ads is the world's largest online advertising platform to advertise on search engines. It does a splendid job of connecting businesses with their target audience precisely when they search for their products or services.
With a team of Google Ads specialists with hands-on experience, Pinacle Web India can help you harness the full potential of Google Ads.
Why Choose Pinacle Web India for Google Ads Services
Expertise: Our team of Google Ads experts have a deep understanding of the latest trends and ongoings in the online advertising world. They've seen it all and know how to optimise your Google ad campaigns to deliver the best results at minimum costs.
Some of the industries we have worked in are:
Steel and Metal
Real Estate
Immigration
Education
Pharma industry
Interior & Exterior
Computer Accessories
Marine
Automobile
Food & Agro
Electrical
Medical
Beauty & Saloon
Banking & Financial Sector
Insurance
Hospitality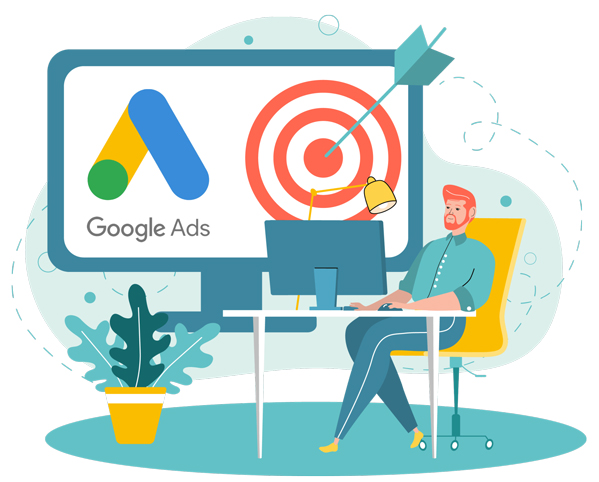 Custom Strategies: We believe that every brand is unique and that different things work for different businesses. Our google campaign management is specifically tailored to your goals and expectations, after thoroughly analyzing what we are working with.
Latest tools: We use the latest tools and applications to aid us in our research. This allows us to maximise your ad campaign's performance and adapt quickly to changing trends.
Transparency: At Pinacle Web India, we believe in complete transparency. You will be receiving regular reports as to how your campaign is doing and what we are trying to achieve.
Mobile-first approach: As most users spend most of their time on their phones, we use a mobile-first approach while creating ads. We make sure your ads look great on smaller screens without minimising the impact.
Our Google Ads Services
Search Ads: Search ads help you reach your potential customers right when they are searching for a product or service you provide on Google. We make compelling ad copies and optimise them for the best ROI.
Display Ads: You can also increase your brand's reach by using visually engaging google display advertising. Our graphic team designs eye-catching images to capture your audience's attention while they are browsing the web.
Shopping Ads: For e-commerce businesses, we specialise in creating shopping ads. You can directly display your products in Google Search Results when people search for them and increase online sales.
Video Ads: Video is one of the most powerful ways to engage with an audience. We also create and optimise video ads on YouTube to boost brand awareness and engagement.
Remarketing: We can re-engage with people who have already shown interest in your business through remarketing campaigns in Google ads. This makes sure that potential customers don't slip from your hands.
Target Local Areas: We can also run local ads on Google to target people living in a certain area. This is especially necessary for businesses who operate only in a particular area.
Reach Out to Us
Pinacle Web India is a PPC ads agency providing Google Ads Management services in Mumbai, India. We are here to get your business the online presence it deserves.
Don't miss out on the incredible potential of Google Ads. Contact Us today to schedule a free consultation.
People also search for
Google Ads, Google Ads Services, Google Ads Services in India, Google Ads Services near me, Google Ads Company, Google Ads Company in India, Google Ads Company near me, Google Ads Agency, Google Ads Agency in India, Google Ads Agency near me, Best Google Ads Services, Best Google Ads Services in India, Best Google Ads Services near me, Top Google Ads Services, Top Google Ads Services in India, Top Google Ads Services near me, Corporate Google Ads Services, Corporate Google Ads Services in India, Corporate Google Ads Services near me, Best Google Ads Company, Best Google Ads Company in India, Best Google Ads Company near me, Top Google Ads Company, Top Google Ads Company in India, Top Google Ads Company near me, Corporate Google Ads Company, Corporate Google Ads Company in India, Corporate Google Ads Company near me, Best Google Ads Agency, Best Google Ads Agency in India, Best Google Ads Agency near me, Top Google Ads Agency, Top Google Ads Agency in India, Top Google Ads Agency near me, Corporate Google Ads Agency, Corporate Google Ads Agency in India, Corporate Google Ads Agency near me
For more information
Contact us at: pinaclewebindia@gmail.com / +91-8433561656